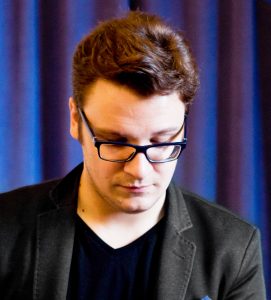 Mr. Edwin Szwajkowski was born in 1994 in Vilnius. In 2012 he graduated with honors from the piano class at M.K. Čiurlionis National School of Fine Arts in Vilnius in the piano class of Vida-Emilia Prekeryte, then he continued his studies in Zenon Brzewski School of Music in Warsaw. In 2014 he started his studies at the Fryderyk Chopin University of Music in Warsaw in the piano class of the Prof. Edward Wolanin and Radosław Sobczak. Currently he studies under prof. Alicja Paleta-Bugaj and dr Konrad Skolarski guidance in Warsaw and also in Talent Music School with Proffesor Dina Yoffe in Brescia.
He has won many national and international competitions. His most important achievements are, among others: the 1st prize at the International Piano Competition in Vilnius (2010), the 3rd prize and two special awards – Award of the French Ministry of Culture and the audience prize – at the International Piano Competition Chopin in Narva, Estonia (2012), the 1st prize during the National Auditions of Artistic Educational Centre in Warsaw (2013), the 1st prize and special prize at M. Moszkowski International Piano Competition in Kielce (2013) and 1st prize at Ludwik and Halina Stefanski Chopin Piano Tournament of in Cracow (2013), Prize winner Piano Competition in Sankt- Petersburg 2013, Special Prize winner Chopin Piano Competition in Warsaw (2014)
The artist often gives concerts in Poland and abroad. As a soloist he has performed with the Tallinn Philharmonic Orchestra, Philharmonic in Narva, Warsaw Philharmonic, Kielce Philharmonic Orchestra, St.Petersburg Philharmonic, Vilnius Philharmonic, Royal Castle in Warsaw, Witold Lutoslawski Philharmonic Orchestra in Łomża, K. Namysłowski Philharmonic Orchestra in Zamość and Zenon Brzewski String Orchestra. He played during one one of the concerts in the series "Young Talents" organized by the Fryderyk Chopin Institute. He participated in the International Summer Music Festival Vivace Vilnius,
69th International Fryderyk Chopin Piano Festival in Duszniki-Zdroj in 2014 and
70th International Fryderyk Chopin Piano Festival in Duszniki-Zdroj in 2015
Edwin Szwajkowski recorded a CD with Edvard Grieg's piano pieces for the Lithuanian radio in 2013. He was awarded by the President of Lithuania for a successful artistic and concert activity. He also won a scholarship from the National Foundation for Talented pianists in Poland.
Edwin Szwajkowski has taken part in many national and international piano courses:
Andrzej Jasinski, Katarzyna Popowa-Zydron, Ewa Poblocka, Vera Nosina, Nina Seriogina, Janusz Olejniczak, Maurizio Moretti, Golda Weinberg-Tatz, Yumiko Muruyama, Michael Levin, Boris Petrushansky, Leonid Margarius, Tamas Ungar, Ramzi Yassa, Mikhail Woskresensky.