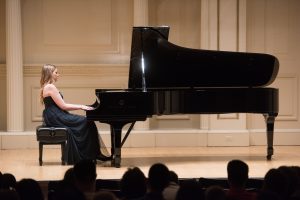 Klaudia Kudełko – winner of the prize for the best live performance at Carnegie Hall – Outstanding Performance Prize, New York (2017) and first prize winner at the Concert Artists International Piano&Strings&Voice Competition in New York described by the judges as an exceptional and special artist with an unique poetry in her interpretations.
Klaudia Kudełko is a laureat of many international piano competitions including 2nd prize at the International Halina Czerny-Stefanska Piano Competition in Cracow (Poland, 2012), Special Prize at the International Chopin Competition in Rzeszów (Poland, 2013), 2nd prize at the International Music Competition in Barletta, (Italy, 2012), 1st prize and Judge's Distinction Award at the New York Talent Competition in New York (USA, 2014) and many more.
As an active soloist she performed in many important concert halls in Poland including Grand Theater&National Opera in Warsaw, Łazienki Królewskie in Warsaw, Royal Castle in Warsaw, Palace in Radziejowice, but also abroad in Germany, Belgium, Italy, Denmark and United States of America, where she was invited to participate in prestigeous PianoFest Hamptons in the Hamptons (2017). Klaudia Kudełko performed with orchestras such as Philharmonic Orchestra in Kielce, Philharmonic Orchestra in Rzeszów, Symphonic Orchestra in Zamość, Zenon Brzewski Orchestra in Warsaw.
Klaudia has been member of intetnational piano masterclasses with Pavel GIlilov, Jacques Rouvier, Paul Schenly, David Jalbert, Pierre van der Westhuizen selected as a participant to prestigeous International Mendelssohn Academy Leipzig in Germany, PianoFest Hamptons in USA, ClaviCologne Music Festival in Germany, Accademia di Mussica di Cagliari in Italy, Accademia di Musica di Pinerolo in Italy.
Currently she is a student of the Fryderyk Chopin University in Warsaw in a piano class of professor Alicja Paleta-Bugaj and dr Konrad Skolarski. She graduated from PSM I i II st. in Zamość in piano classes of Ewa Gajewska and Alicja Słupska and continued her education in special talent school Zenon Brzewski Music School in Warsaw under Joanna Ławrynowicz's guidance.
Klaudia Kudełko was honored by the stipend of Adam Mickiewicz Institute in Warsaw, President of Zamość, Marshall Office in Lublin and Kościuszko Foundation in New York.