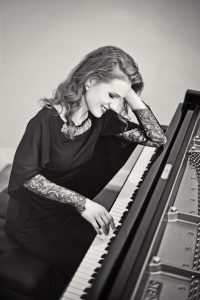 Katarzyna Mróz – pianist
Katarzyna Mróz – born in Wrocław in 1990. Started education in National Music School In Opole. Graduate of the Karol Szymanowski National Music School in Katowice, tutored by prof. Anna Górecka and prof. Lubow Nawrocka. Graduate of Frederic Chopin Music University in Warsaw, where she studied piano with prof. Alicja Paleta – Bugaj, dr Agnieszka Przemyk – Bryła and dr Konrad Skolarski and chamber music with prof. Katarzyna Jankowska – Borzykowska. Graduate of postgraduate vocal chamber music studies (Frederic Chopin Music University in Warsaw, 2016).
Laureate of piano competitions including 3rd prize at Johann Sebastian Bach International Piano Competition in Gorzów Wielkopolski, Poland (2006), 3rd prize at Forum for Young Musicians in Rybnik, Poland (2006), 3rd prize at Piano Competition in Nałęczów that took place during the International Piano Festival and Mastercourse in Nałęczów, Poland (2011). Finalist of International Chopin Competition in Marianske Lazně, Czech Republic (2013) and XI International Piano Competition in Huesca, Spain (2015). Laureate of scholarship awarded by President of Opole.
Katarzyna has given recitals in Poland i.a. Warsaw Music Society, Chopin's manor in Duszniki Zdrój, Myślewicki Palace and Water Palace in Łazienki Park in Warsaw and during festival "The Longest Birthday of Chopin", and in Germany. In 2007 Katarzyna performed 1st part of Piano concerto op.21 by Frederic Chopin with Opole Philharmonic Orchestra. She gave over 100 recitals for audience from all around the world in "Chopin's Salon" in Warsaw. In November 2014 performed a recital in Steinway Piano Salon in Warsaw.
Katarzyna worked with many outstanding pedagogues as A. Jasiński, A. Paleta – Bugaj, W. Świtała, K. Popowa-Zydroń, Z. Raubo, A. Nosè, A. Siirala, K. Kenner, M. Herbowski, G. Kurzyński, J. Banowetz, A. Wodnicki, A. Stefański, G. Maiorca, K. Brzozowski, T. Mack, L. Tamulevich, E. Levitan, M. Ülkü. Took part in mastercourses in Poland and in Germany.
During summer 2016 she organized piano recitals and music workshop for children during open air festival "Otwarta Ząbkowska" in Praga district in Warsaw.
Currently, Katarzyna is studying postgraduate programme of Culture Menegement at the Warsaw School of Economics.