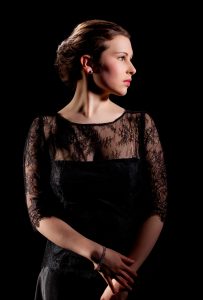 The pianist, Joanna Kacperek has performed in major concert halls in Poland (Warsaw Philharmonic, Concert Studio of the Polish Radio, the Royal Castle in Warsaw) and abroad (including France, Italy, Spain, Norway, Russia, the Ukraine, Canada and Japan). As a soloist, she has performed with such orchestras as the Symphony Orchestra of the National Philharmonic in Warsaw, State Academic Symphony Orchestra in Moscow and Lviv Virtuosos Chamber Orchestra.
Joanna Kacperek has won piano competitions in Szafarnia (the 1st Prize in 2007), Pilsen (the 1st Prize and a special prize for excellent interpretation of Bedrich Smetana's compositions in 2008). She is also the winner or the 1st prize at the Young Musician International Competition "Citta di Barletta" in Italy (2010), at the 14th Miłosz Magin International Piano Competition in Paris (2011) and Witold Lutosławski Music Competition in Warsaw (2011).
The recent achievements of the pianist include winning a special prize at the International Edvard Grieg Piano Competition in Bergen (2016), granted unanimously by the jury and the composer Christian Blom for the best performance of his work.
As a chamber musician, Joanna works with Michał Przygoński, baritone, and Roksana Kwaśnikowska, violinist. With the latter one, Joanna represented Poland at the Kyoto International Music Students Festival in Japan (2015).
Joanna is this year's graduate from the Fryderyk Chopin University of Music (piano class of Ewa Pobłocka). Under the Erasmus+ programme, she also studied at the Universität der Künste in Berlin with Markus Groh. Joanna has also won the scholarships from the Minister of Culture and from the Prime Minister.
The pianist has participated in master classes of such artists as: Dina Yoffe, Anna Malikova, Boris Berman, Bernd Goetzke, Hinrich Alpers, Fumiko Eguchi, Elena Richter, Philippe Giusiano, David Dolan, Jiri Hlinka, Katarzyna Popowa-Zydroń, Piotr Paleczny, Andrzej Jasiński, Krzysztof Jabłoński, Wojciech Świtała